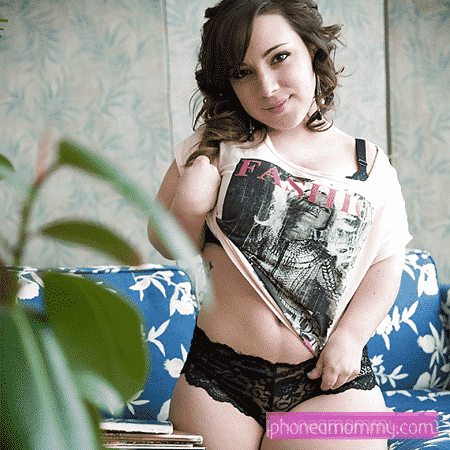 Robert could barely believe his luck tonight! He hadn't planned on picking anyone up at the bar when he walked out his front door this afternoon, just an evening out with some friends, but once he laid his eyes on Mimi, that was it for his plans. He'd never had a midget fetish, but she was so damn hot that he figured he would have one after all this. He was already so drunk that he wasn't sure how the conversation came up, but he kind of danced around the fact that he liked a little mommy roleplay, though he had never actually tried it with anyone. Just the idea of letting someone have control like that over him got him excited and hard, but also kind of fuzzy and warm, thinking about being coddled like a baby. Best of all, instead of running her off, that little factoid made her even more interested. It took a few extra minutes to get to her place, she stopped at a drugstore for some 'supplies', then he was finally walking through her door.
They made out a little bit on her couch, then somehow, she maneuvered them around so that his head was in her lap. She started running her fingers through his hair, lightly cooing at him, telling him how good he would look in a onesie and a diaper! This had always seemed nice when he thought about it before, but now he just felt silly. He told her that as he got up, told her that this was ridiculous and made to leave. She stood up on the couch, and he doesn't know how she did it, but she was telling him to sit back down and he did it without thinking. She might not be physically dominating, but she definitely had the voice down pat. Her mom voice had him undressing and laying down on the couch, confused and staring to get a little turned on. He still had to help a bit getting his diaper and onesie on, but the way she was still talking to him made him feel smaller and smaller, in a very good way.
He didn't say a word when she popped a pacifier into his mouth, just started sucking on it like a good baby. He did start to fuss a bit when she took the pacifier out of his mouth, whining for his paci before he even thought about it. That dried up quick when he saw that she was unbuttoning her blouse and taking her bra off! Her tits looked as fantastic as he thought they would, and his head was back in her lap while he sucked on her nipples… he felt like he was floating on air as she went back to cooing at him. He always had a feeling that this would feel good, but he really had no idea how good age play would really feel. He was going to talk Mimi into being his mommy from now on and it was going to be fantastic! Ready to play with me yourself? Call me for some abdl mommy phone sex.
Midget Mimi
1-888-430-2010
Click Here to chat with a phone sex midget!
#abdldiaper #ageplay #abdlmommy #adultbaby